" I'm proud to have served the people of New Mexico as an elected official at the city, county, and state level."
ACTIVE COMMUNITY INVOLVEMENT
• Founding Member (1982) and past spokesman MADD (Albuquerque Chapter)
• Member, Mayor's Task Force on Alcohol Abuse, DWI, and Crime
• Member, City Redistricting Committee,
• Member, City-County Unification Committee,
• Chaco Ridge Voting Member (High Desert Neighborhood Association)
December 1, 1985 to November 30, 1989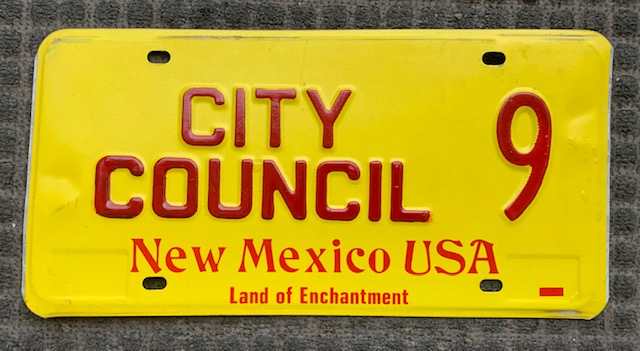 Albuquerque City Councillor
A Strong Record of Actions and Accomplishments!
Enacted free bullet-proof vest program for all APD Officers "VEST A COP"
Wrote the first laws to save the Petroglyphs – West Mesa Volcanic Escarpment
Started the Albuquerque Office of Recycling
Initiated the Coalition of all 19 District 9 Neighborhood Associations – the first city council Neighborhood Coalition – Held monthly meetings
Sponsored Legislation to save the Albuquerque Trolley System
Authored Legislation to ensure that assets and forfeitures seized, could be kept by the police to be used in the war on drugs
Initiated the APD Helicopter Program
Pioneered the roll-out trash container system to replace the plastic bags – which has resulted in increased productivity and millions of dollars in savings from workers compensation alone
A strong supporter of the Convention Center Expansion, Airport (Sunport) expansion and remodeling, Botanical Gardens, Open Space acquisitions and the Albuquerque Convention Visitors Bureau
Authored Legislation to automated Albuquerque's Traffic and Parking Citations
Established a Sister City relationship with Ashkabad, Turkmenistan
Had the abandoned Western Skies Hotel condemned and demolished
Amended Auto Emissions Inspection Ordinance to protect consumers by mandating that the price charged be posted outside each station
Wrote the Alarm System Registration Ordinance to stem the number of false alarms
Created a Task Force to study the problem of abandoned and inoperable vehicles and how best to get them removed
Worked with APD to set-up Police roadblocks to apprehend motorists operating vehicles without registration, insurance or valid driver licenses.
Was instrumental in helping to bring the Miss USA Pageant to Albuquerque (Feb. 17, 1987)
Co-Sponsored the Clean Indoor Air Act (O-51) with Councilor Richard Chapman.
Click on the logo to visit the City of Albuquerque City Councilor Archive Page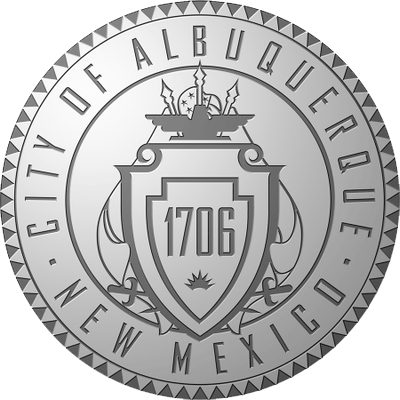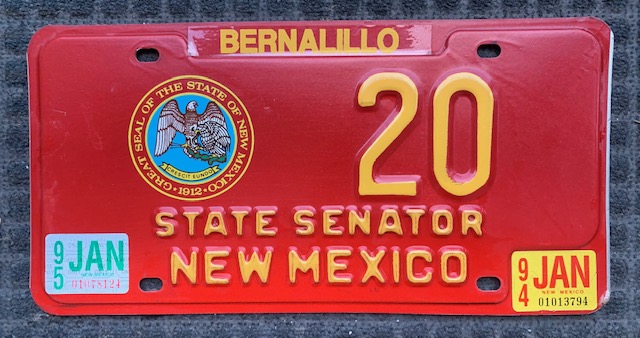 Bills Sponsored by New Mexico State Senator Michael Wiener January 1993 – January 1997
Reformed real estate licensing laws (SB-203)

Secured $850,000 to fund APD Foothills Substation (Lomas and Chelwood)

Sponsored the New Mexico Personal Protection Act

Passed a constitutional amendment raising the number of signatures required on a grand jury petition

Voting record – ranked fourth best of all 42 senators by Association of Commerce and Industry, a pro-business lobbying group
Prime sponsor of these motor vehicle-related and pro-law enforcement bills:
1993
S-50: Special registration plates for legislators

S-275: Require proof of drivers license when applying for registration

S-276: Authorize MVD to cancel vehicle registrations when drivers license has been revoked

S-277: Outlaw license plate frames and covers

S-347: Provide notification of insurance companies online and suspension of registration

S-697: Increase penalties for injuring police animals

S-855: Establish a state transportation department
1994
S-224: Increase penalties for impersonating a police officer

S-225: Provide DWI information to drivers license applicants

S-505: Concealed weapons act

S-512: Special registration plates

S-515: Northeast Heights police substation funding

SM-44: Prison facility study
1995
S-198: Historic vehicle registration plates

S-199: Registration plate display

S-201: Wildlife registration plates

S-217: Firefighter registration plates

S-256: Collegiate registration plates

S-291: Disabled parking enforcement

S-461: Reduce fees for Children's Trust Fund plates

S-517: Farm vehicle registration

SJM-16: Enhanced drivers license system
1996
S-64: New Mexico Personal Protection Act

S-77: Comprehensive revision of Motor Vehicle Code

S-644: Fund APD helicopter program

SJR-3: Constitutional amendment allowing concealed weapons
Bernalillo County Commissioner District 4
Because of Commissioner Wiener's hard work:
Eubank Boulevard extension/reconstruction is completed (under budget / ahead of schedule)!
Desert Greens Golf Course in Paradise Hills is open and has reduced water bills!
Inmates are now making their own uniforms at the Metropolitan Detention Center (MDC)!
District 4 Coalition of Neighborhood Associations was established!
Our county government has become more transparent!
Vehicles of repeat drunk drivers are being seized!
A new little league complex has been built in Paradise Hills!
A Hang Gliding Park has been dedicated to former Astronaut Harrison "Jack" Schmitt! (The last man to walk on the moon)
MDC inmate's cleanup crews program was implemented to remove weed and trash throughout the district.
The last train whistle in the North Valley was silenced so that the residents can have peace and quiet!
The National Dance Institute was established in the Old Highland Theatre and made possible by a 3 to 2 vote with Commissioner Wiener casting the deciding vote.
Animal protection laws have been improved and enforcement has been strengthened!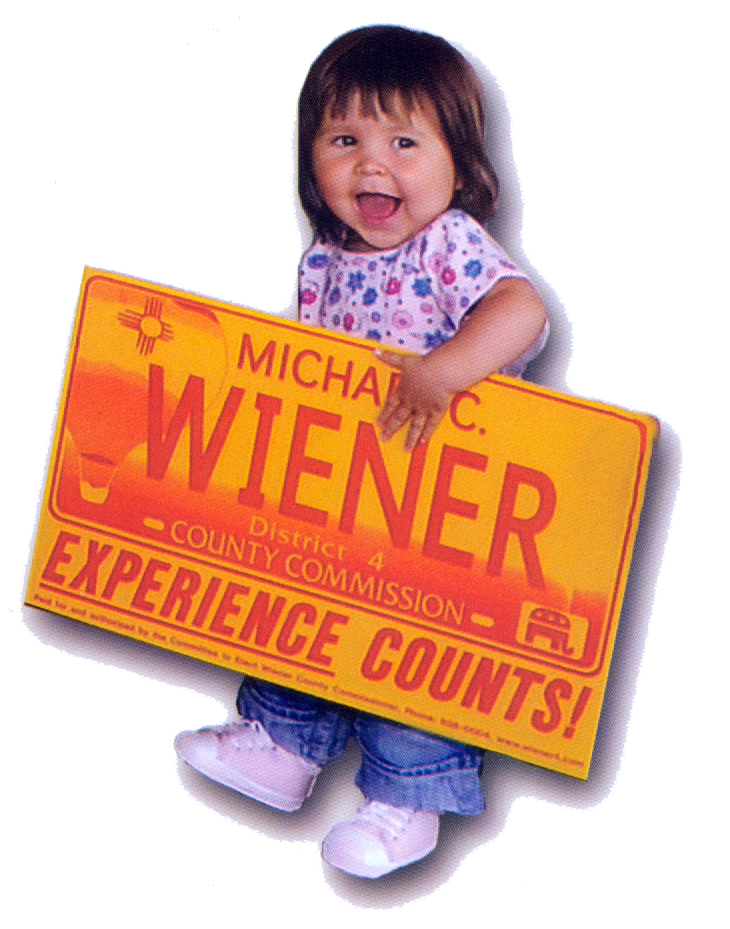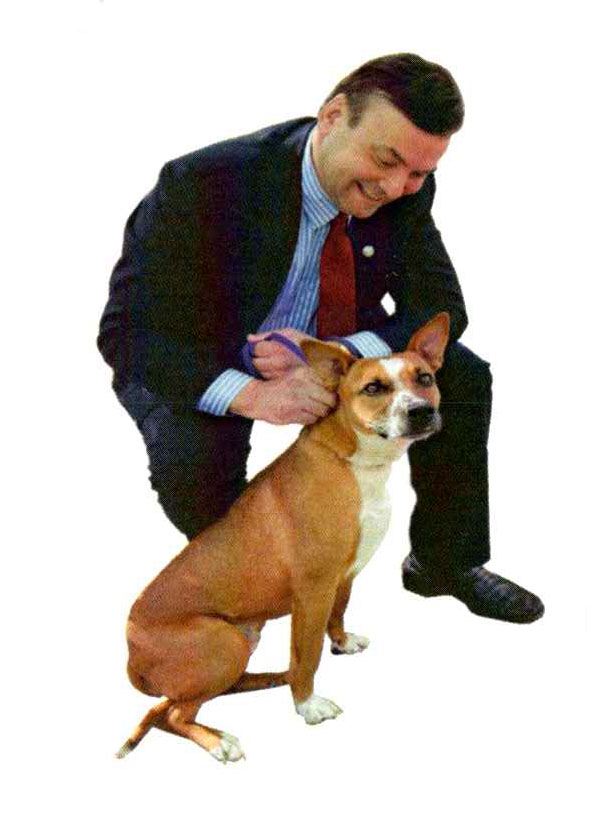 People for Animal Welfare of New Mexico (PAW.. NM) endorsed MICHAEL C. WIENER:
"Commissioner Wiener has been extraordinarily effective in creating positive change both in the animal ordinance and the management of the Animal Care Services Department. His efforts have been invaluable in improving the lives of Bernalillo County's animals. Commissioner Wiener has always been available, in person and on the telephone, to speak with animal welfare advocates, listen closely to their concerns and take appropriate action."
"He has been a true champion for the forgotten four-leggeds of Bernalillo County. This Commissioner remains strongly committed to enhancing the welfare of the animals of Bernalillo County."