THE REAL STORY…  Michael C. Wiener
" I'm proud to have served the people of New Mexico as an elected official at the city, county, and state level."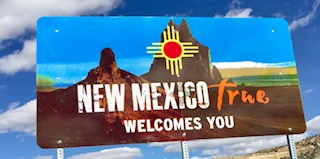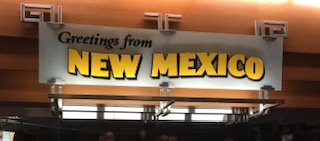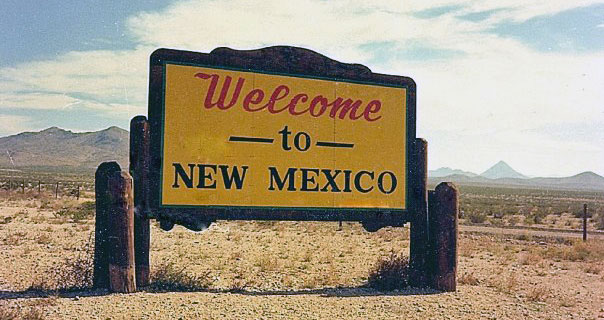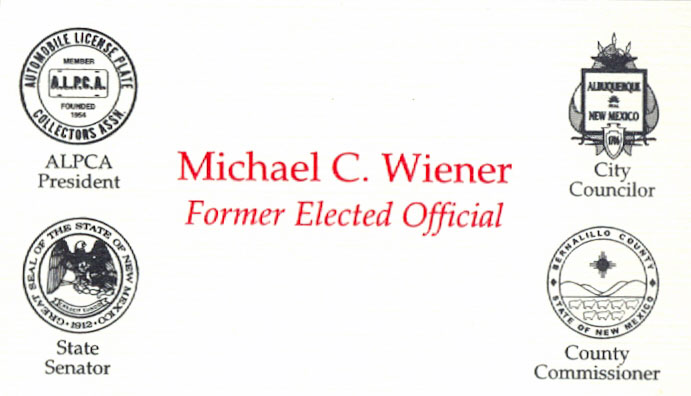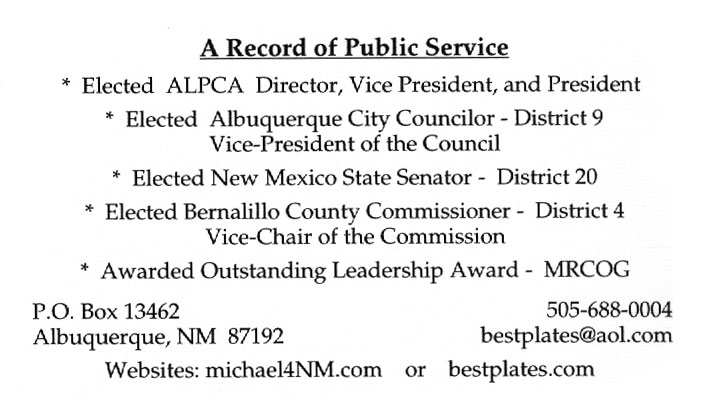 Michael C. Wiener – ALPCA 1517




License Plate Collector, Researcher, and Consultant
Former Albuquerque City Councillor
Former New Mexico State Senator
Former Bernalillo County 
Commissioner 
As seen on HGTV's "Offbeat America" TV show!
Michael C. Wiener is considered by many to be America's foremost authority in the field of automobile license plates and motor vehicle licensing systems.
As a reference source for motor vehicle departments, auto clubs, federal, state and local law enforcement agencies, and television and motion picture production, Michael has an extensive collection consisting of well-over 100,000 license plates.  Michael is a 50-year member of the Automobile License Plate Collectors Association and has served numerous terms as ALPCA Director and Vice-President and twice was elected ALPCA President.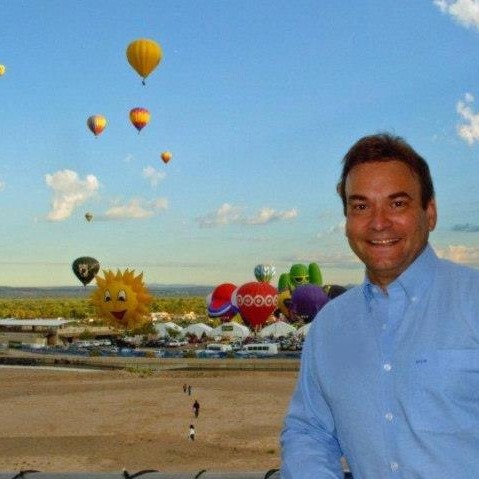 Featured on HGTV's "Offbeat America" TV show, October 2005
Associate Member, American Association of Motor Vehicle Administrators (AAMVA)
Associate Member, International Association of Chiefs of Police (IACP)
Editor of THE LICENSE PLATE BOOK for 14 years, 1984 – 1997
Personally visited all fifty state DMV main offices and analyzed their registration systems
Conducted personal inspections of every single U.S. license plate manufacturing facility, both prison industries and private, 1977 – 2001
Created New Mexico's Diamond Jubilee 75th Anniversary commemorative official front license plate series, 1987
Authored two feature articles on the history of license plates and their revenue-generating potential for AAMVA's MOVE Magazine June 1998, October 1998
New Mexico DMV Public Information Officer 1977-1978
Co-Founder, Albuquerque Chapter of M.A.D.D. 1982 – first spokesman
Elected, member of the Albuquerque City Council 1985-1989, Vice-President two terms
Candidate for New Mexico Secretary of State, 1990
Elected, New Mexico State Senator, 1993-1997,
Sponsored many pieces of legislation concerning motor vehicle laws, the enforcement of mandatory auto insurance, and special registration plates, member DWI Oversight Task Force
Elected, Bernalillo County Commissioner 2009-2013, Representing 160,000 residents in District 4
Past President/Chairman of the Board of ALPCA (Automobile License Plate Collectors Association) – elected twice
Nominated six times to the ALPCA Hall of Fame
Appointed special consultant to International Chiefs of Police Advisory Committee on Highway Safety
Acted in two episodes of TV series "Real Stories of the Highway Patrol"
Appeared on MSNBC The News with Brian Williams May 1, 1998
A frequent speaker at AAMVA conferences – State Police workshops
Often consulted by and quoted in USA TODAY, New York Times, TIME Magazine, Denver Post, Christian Science Monitor, Chicago Tribune,
Boston Globe, Rochester Democrat, and Chronicle, and other publications concerning license plate related issues.
Profiled in New Mexico Magazine – March 1985
Featured in Del Sol Magazine, June 1983
Interviewed in Albuquerque Monthly Magazine, October 1992
Named by New Mexico Business Journal, Sept. 1994, to the list of "Movers and Shakers", the people who make it happen in Albuquerque
B. A. University of New Mexico, 1976
New Mexico Licensed Real Estate broker – 25 years
Founder/CoOwner of a retail small business – 4 years
Professional Photographer 1972-1976